Here you will find regular updates of what we consider to be important news items relating to Crypto currency markets:
[ See Terms of Use, and Legal Disclaimers at the bottom of the page - REF Markets are not recommending any particular trades by posting these news items]
CME's Bitcoin Futures Hit New Records
Source: Bitcoin.com | 13th June 2019
Ever since the Chicago Board Options Exchange (Cboe) announced it was ending its bitcoin futures products back in March, the Chicago Mercantile Exchange (CME Group) has seen a huge influx of bitcoin derivatives volumes. During the second week of May, CME's bitcoin futures touched a milestone when it surpassed 33,000 contracts ($1.3 billion notional value) in one day. In another instance, CME's open interest for its bitcoin derivatives positions smashed an all-time record high of 5,190 contracts on May 28.
Average Daily Volume (ADV) by month shows 1,188% growth since December 2017.
Full Article: https://news.bitcoin.com/cmes-bitcoin-futures-hit-new-records/
Bitcoin Surpasses USD 9,000 and Drops Below USD 8,200 in Five Hours
Source: Cryptonews.com |
The most popular cryptocurrency, bitcoin just gave another example of the recently increased volatility.
After suddenly spiking above USD 9,000 for around 10 minutes on Thursday evening (UTC time) it dropped and after five hours it was already below USD 8,200. At pixel time (05:40 UTC), bitcoin trades at around USD 8,204, or 6% less than 24 hours ago.
Bitcoin price and volatility: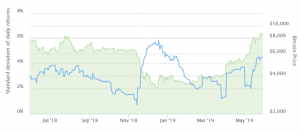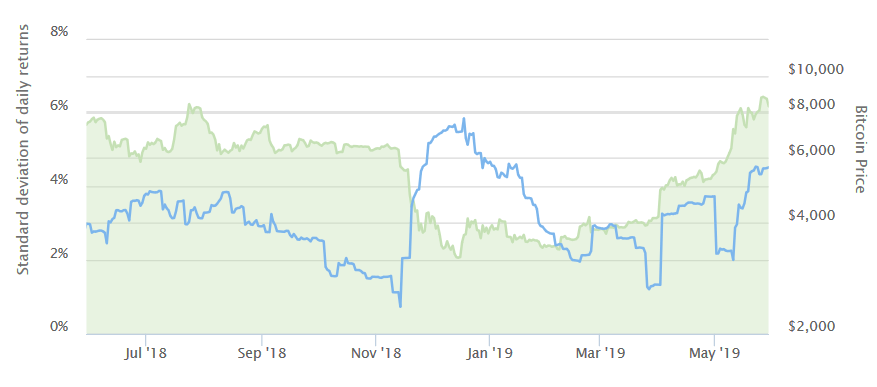 No looking back for Bitcoin - Sunday BTC/USD rally extends towards 9000 USD
Source: Forexlive.com |
It has not relented, although its slowed a little. As I post its above 8900
Late last week news of further mainstream acceptance of crypto came through, US phone network AT&T announced that customers can pay their phone bills in crypto now.
A Surprise from JPMorgan: 'Bitcoin Has Intrinsic Value'
Source: Cryptonews.com | By Sead Fadilpašić
Bitcoin has intrinsic value, admitted a team of strategists at major investment bank JPMorgan Chase & Coand warned that the coin mirrors a boom-bust pattern of 2017.
According to the strategists, bitcoin price now surges beyond its "intrinsic value," trading about twice as high as where the valuation would place it, Bloomberg reported.
The team have treated Bitcoin as a commodity and have calculated its "cost of production" taking into account the information such as the estimated computational power, hardware energy efficiency, and electricity expense, the report said.
The analysts have added, however, that "Defining an intrinsic or fair value for any cryptocurrency is clearly challenging. […] views range from some researchers arguing that it has no fundamental value, to others estimating fair values well in excess of current prices."
"It's wonderful that JPM is finally ready to admit that bitcoin has intrinsic value, and it's not at all surprising that they see the current price as overvalued in comparison to their calculations. Yes, bitcoin is well above the mining cost at current rates, but what JPM has failed to take into account is that frequently, when miners are running a surplus, they will start hoarding coins. By withholding supply from the market when times are flush, they aim to further limit liquidity and send prices even higher," commented Mati Greenspan, senior market analyst at eToro.
The announcement by the bank comes at the time when they're testing their much hyped JPM Coin, the centralized digital token, that may become something of interest for the broader audience.
Meanwhile, other strategists are saying that this latest surge of BTC could actually be signaling the worsening of global economic cycle, as fears of recession grow and amidst the current US-China trade war, according to Business Insider. Michael Hartnett, the chief investment strategist at Bank of America Merrill Lynch, explains that all this is further suppressing the yields on bonds that have already fallen and remain near historic lows in several major countries, while the bond prices in the US are slowly rising. Hartnett said in a recent note to clients that what investors have done is piled into a "greed trade" that includes USD 127 billion in corporate and emerging-market debt.
He also said that bitcoin is more appealing to investors during the times of uncertainty, and that the surge above USD 8,000 "confirms belief in world of negatively-yielding debt," not actually saying that the rise occurred to the greed trade, but finds it of interest that these two events occurred at the same time. Hartnett stated that BTC's 2017 bubbles was one of the greatest ever and, interestingly, his team had conducted a survey conducted just before it crashed, which "showed that large fund managers thought betting on bitcoin was the most crowded trade in the world", according to Business Insider.
In either case, the cryptoverse is looking for more signs that bitcoin price will continue to rise through 2019. George Kikvadze, executive vice chairman of major cryptocurrency and blockchain venture Bitfury, reminds that we're one year away from the next Bitcoin halvening, when the Bitcoin block mining reward will decrease from 12.5 to 6.25 bitcoins. It is estimated that this will be the last halvening to have a very significant impact on its price.
Markets Update: Bears Claw Crypto Prices Back While Uncertainty Fills the Air
Digital asset markets fell hard during the early morning trading sessions on May 17 as the price of bitcoin core (BTC) quickly tumbled from $7,900 to a low of $6,200 on Bitstamp. Many other crypto markets followed BTC's drop in value, but over the last few hours, a good portion of coins have regained a percentage of the intraday losses.
---
Crypto Markets Dump In Unison
Markets faced extreme volatility on May 17, as the price of many coins nosedived in value from the previous day's high. Currently, the entire market capitalization of the whole cryptoconomy is roughly $226 billion, but close to $30 billion was shaved off the overall valuation since the dump. At the moment, on Friday afternoon, the price of bitcoin core (BTC) is roughly $7,085 and is down 10.9% in the last 24 hours.
The second largest market valuation belongs to ethereum (ETH) markets which are currently down more than 13.6% today. Each ETH is swapping for $229 per coin and the market capitalization is roughly $24.3 billion. Ripple (XRP) prices are down 12.6% and each XRP is swapping for $0.36. Lastly, eos (EOS) holds the fifth largest market cap today, after knocking litecoin (LTC) out of the position. One eos is trading for $5.83 per coin and the market is down 10.9%.
The Verdict: Crypto Sentiment Changed Fast Like a Mood Ring
At the moment, a decent amount of uncertainty is in the air and traders are likely hoping they played the correct positions. Right now, tether (USDT) has the strongest volume which is about $1 billion dollars higher than BTC's trade volume today. Crypto markets started rising pretty fast, about a week before and during the Consensus conference in New York which typically happens on an annual basis.
However, during the early morning trading sessions this Friday, traders saw a BTC sell order worth a whopping $35 million on the Luxembourg-based exchange Bitstamp. As soon as the order hit the market, it triggered a very fast nosedive which saw BTC lose $1,000 in value. So far the cryptoconomy is calm but traders are unsettled by the extreme volatility and the mood has certainly changed.
SEC Commissioner Says Time Is Right for Bitcoin ETFs — 3 Funds Pending
The U.S. Securities and Exchange Commission (SEC) is currently reviewing three bitcoin exchange-traded funds (ETFs), one of which was filed last week to track the prices of two cryptocurrencies. An SEC commissioner said at the Consensus conference on Monday that the time is right for a bitcoin ETF, as the commission is due to make a decision on one of them next week.
SEC Commissioner: Time Is Right for Bitcoin ETF
At the Consensus 2019 conference in New York on Monday, SEC Commissioner Hester Peirce, also known as "crypto mom," discussed the regulatory environment for bitcoin ETFs. Expressing her dissatisfaction with the current law, she asserted that the SEC should do more to provide a regulatory framework for cryptocurrency including rules around safe harbor. Decrypt quoted her as saying:
I thought the time was right a year ago — even longer than that … My first chance to comment on it was a year ago … Certainly the time is right, but there are still questions floating around the SEC that need to be answered as much as possible by you all.
Peirce then encouraged the audience to write to the SEC to help them understand the market. One issue she noted was market manipulation, which "is a concern that people keep raising at the SEC," she shared. "Other issues like custody issues [also] come up a lot."
Her comments at Consensus echo her speech at the Securities Enforcement Forum which took place on May 9. "The problem is that the securities laws do not cease to operate as a new industry develops," she explained. "Consequently, individuals and companies in the industry must comply with our securities laws or risk becoming the subject of an enforcement action. It is therefore our duty as a regulator to provide the public with clear guidance as to how people can comply with our law. We have not yet fulfilled this duty." The commissioner additionally described:
It is not the SEC's overzealous action that has stifled the crypto industry, but its unwillingness to take meaningful action at all.
Peirce also expressed concern that the U.S. is falling behind other forward-thinking countries. "Our country has always been a country where innovation can really thrive," she opined Monday. "I worry that a lot of the activities are now happening offshore. I want the US to be the market for innovation."
The SEC staff recently issued a 14-page document detailing a framework to assist issuers with conducting a Howey analysis to evaluate whether token offerings are securities. It details features of an offering and actions by an issuer that could signal that the offering is likely a securities offering. Peirce expressed her worry, however, that this framework "could raise more questions and concerns than it answers."
The commissioner previously said she believes the SEC has no jurisdiction to look at the underlying asset when considering whether to approve a proposed rule change for an ETF. She has also emphasized that excessive regulation could hurt innovation such as cryptocurrency.
The SEC's Senior Advisor for Digital Assets and Innovation, Valerie Szczepanik, explained that the agency is moving slowly on cryptocurrency regulations and cryptocurrency-based products because it needs to be cautious. Szczepanik coordinates efforts across all SEC divisions and offices regarding the application of U.S. securities laws to emerging digital asset technologies and innovations, including cryptocurrencies and initial coin offerings.
In his speech at the SEC Sparks conference on April 8, Chairman Jay Clayton said one of the areas the commission has focused its attention on due to heightened risks is "digital assets, including cryptocurrencies, coins, and tokens." At the Consensus Invest conference in November last year, he revealed the key upgrades he needed to see before the SEC could consider approving its first bitcoin ETF such as better market surveillance and safe custody of crypto assets.
Bitwise Bitcoin ETF: August 14
One of the proposals being reviewed by the SEC is for the listing and trading of shares issued by Bitwise Bitcoin ETF Trust filed by NYSE Arca Inc. on Jan. 28. This proposed rule change was published in the Federal Register on Feb. 15. On March 29, the SEC designated May 16 as the day to make its decision on this proposal. However, on May 7, the exchanged filed Amendment No. 1 to the proposed rule change, replacing the original one in its entirety. According to the amended registration statement filed with the SEC:
The trust will hold bitcoin … [and] will store its bitcoin in custody at a regulated third-party custodian, and will not use derivatives that may subject the trust to counterparty and credit risks.
Furthermore, the company explained that "the trust will not directly purchase or sell bitcoin. Instead, authorized participants will deliver bitcoin to the trust in exchange for shares of the trust, and the trust will deliver bitcoin to authorized participants when those authorized participants redeem shares of the trust."
For the full article detainling other ETF that have been filed see:
https://news.bitcoin.com/sec-commissioner-time-right-bitcoin-etf-funds/
Bitcoin's Surge to Almost $8,000 Rekindles Memories of Bubble
Updated on
Token's 8-month high sweeps up Ether, Litecoin, Bitcoin Cash

Short sellers tracked by CFTC had just increased net holdings
Bitcoin jumped to almost $8,000 and didn't look back, as its longest winning streak since 2013 continued to rekindle the global cryptocurrency market.
Monday's advance of as much as 26% comes only a few days after the digital asset broke through $6,000 and looks set to boost investor interest in conferences on the technology underlying the biggest crypto asset that are taking place in New York this week. Bitcoin's latest surge started Saturday, when the two U.S. exchanges carrying futures are closed, making it potentially difficult for short sellers to cover their wagers.
B"Bitcoin is acting differently since moving above its 200-day moving average" and the gains are occurring on strong volume, Fundstrat co-founder Tom Lee, a noted Bitcoin bull, wrote in an email. Blockchain Week is underway, co-sponsored by the New York City Economic Development Corp., and the Consensus forum is set to start, where people are "expecting a higher-quality conference," Lee said.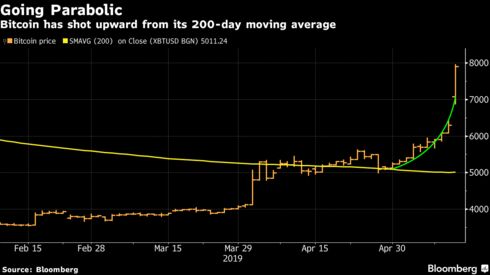 With fundamental analysts often struggling to explain crypto markets, traders have recently pointed to institutions increasingly embracing digital coins. The likes of Fidelity Investments plans to buy and sell Bitcoin for institutional customers soon, and E*Trade is dipping into the trading space.
Adding to the optimism was speculation Monday that more mainstream companies such as eBay and Whole Foods are about to start accepting cryptocurrency payments. Bakkt, a venture that includes Intercontinental Exchange Inc. , said Monday it will begin testing Bitcoin futures in July.
"The largest crypto gathering in the world is going on right now, Consensys, and there's Bakkt announced their futures product is going to be up and running in July," said Travis Kling, founder of the Los Angeles-based crypto hedge fund Ikigai. "Before then there was not a concrete date on when the Bakkt product is going to be launched."
Bitcoin climbed as high as $7,963, the most since July 2018. Rival coins surged in a broad rally, with Bitcoin Cash up as much as 40%, and Litecoin and Ether both at least 21% higher.
Read more: Bitcoin a Buy Says Strategist Who Called Late-2018 Breakdown
Hedge funds and other investors had increased their net short bet against Bitcoin in the week through May 7, the U.S. Commodity Futures Trading Commissions said Friday. When trading opened on Monday, futures traded on CME opened 12% higher.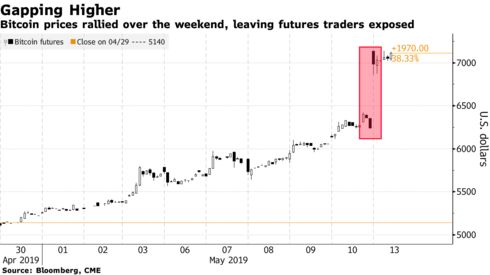 While Bitcoin has more than doubled from its post-crash low, the crypto space is by no means free of headaches.
Based on the DVAN Buying Selling Pressure Gauge, the coin is seeing the most buying pressure since the rampant run-up in 2017. In addition, Bitcoin appears prime to retest its previous break of $8000 when it soared to $8500 a coin in July of 2018.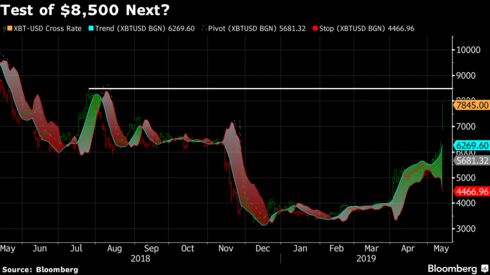 Blockchain Projects Bloom as Crypto Spring Fuels a Fundraising Boom
Source: Bitcoin.com
As crypto winter subsides, spring has sprung in the cryptosphere, ushering in green shoots of growth across the board. Attention has largely focused on the increase in digital asset prices, as cryptocurrencies have swelled by an average of 40% in 2019. But away from the frothy market action, there is far more tangible evidence that the worst of the downturn is over. Scores of crypto projects have reported renewed interest from investors, signaling that better times are ahead.
Crypto Spring Is in Full Bloom
There is still significant debate as to whether we've officially exited the bear market that has dragged on since early 2018. Some commenters, such as Vinny Lingham, believe BTC will have to surpass $6K territory again for that to occur. Regardless of whether bitcoin's cup is currently deemed to be half full or half empty, what's indisputable is that raising funds has become significantly easier for crypto projects since the market perked up a months ago. This week, news.Bitcoin.com spoke to more than half a dozen projects that all reported a similar story: investors have loosened their purse strings.
Full story: https://news.bitcoin.com/blockchain-projects-bloom-as-crypto-spring-fuels-a-fundraising-boom/
Crypto Markets and CME Futures Post Record Trade Volume
Volume has been ramping up across the cryptocurrency markets, with April seeing a new all-time high posted for daily global cryptocurrency volume. The month has also seen Chicago Mercantile Exchange (CME) report record trade volume for its BTC futures contracts, in addition to Cumberland's trade desk reporting an influx of 1,000 BTC buy orders, signaling strength across numerous facets of the virtual currency ecosystem.
https://news.bitcoin.com/markets-cme-futures-record-volume/
BCH Maintains Strong Le
ad as Crypto Prices Record Slight Pullback
Cryptocurrency markets saw some significant gains over the last two days, but prices on Thursday have started to pull back from this year's all-time highs. When the spikes first initiated, bitcoin cash (BCH) led the pack out of the top 10 cryptocurrencies and still maintains a lead with over 75 percent worth of gains for the week.
Full Article: https://news.bitcoin.com/markets-update-bch-maintains-strong-lead-as-crypto-prices-record-slight-pullback/
Bitcoin Surges as Cryptocurrency Market Suddenly Springs to Life
Double-digit advance in virtual currencies ends months of calm

Traders struggle to pinpoint reasons for brisk comeback
An abrupt surge in Bitcoin sent the world's most popular cryptocurrency to the highest level since November, jolting the $160 billion market for digital assets after three months of calm.
Traders struggled to pinpoint reasons for the rally, though some noted a flood fresh interest after Bitcoin breached the $4,200 level. The cryptocurrency briefly topped $5,000 and the value of digital assets tracked by CoinMarketCap.com jumped by about $17 billion in less than an hour.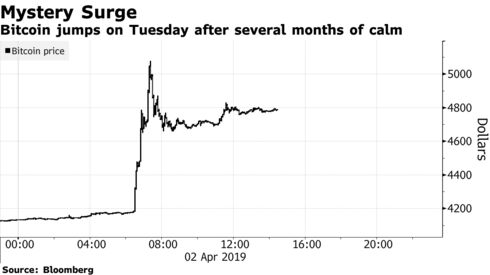 Sudden swings in Bitcoin are nothing new, but price action had been relatively subdued this year as investors weighed the prospects for mainstream adoption after last year's 74 percent crash. Market participants say big buy orders in Bitcoin can often lead to outsized moves, in part because volume is spread across dozens of venues. Trend-following individual investors and short covering can also exacerbate volatility.
"The Bitcoin market and crypto market in general continues to be small relative to the rest of the markets -- and emotional," said Jehan Chu, managing partner at blockchain investment and advisory firm Kenetic Capital. "It's still very much subject to waves of enthusiasm. I don't think today is anything special."
Even after paring some of its gain, Bitcoin was trading up 15 percent at $4,737.59 as of 11:35 a.m. in New York. Rival coins Ether, Litecoin and Bitcoin Cash jumped by double digits. Cryptocurrency-linked stocks including Remixpoint Inc.and CMC Markets Plc advanced.
George Harrap, chief executive officer at Bitspark, said he's putting "most things on pause" until the market settles down. His contacts in the Bitcoin community have yet to identify a catalyst for the sudden jump.
"The reason why? Anybody's guess at the moment," Harrap said.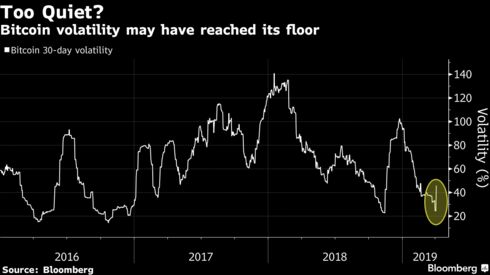 Among potential triggers discussed on trading desks and in social media: short covering by traders who had stop-loss orders around the $4,200 level, computer-driven trading and an April Fool's Day story on a little-known online news site claiming that the U.S. Securities and Exchange Commission had approved Bitcoin exchange-traded funds.
Full Story:
https://www.bloomberg.com/news/articles/2019-04-02/bitcoin-s-sudden-jump-propels-cryptocurrency-above-5-000?srnd=premium-asia
Gibraltar Exchange to List Bitcoin Cash Fiat Trading Pairs
Source: Bitcoin.com
A Gibraltar insured and regulated digital asset exchange is set to list bitcoin cash (BCH) versus fiat trading pairs. Users of the platform, that also features fiat onboarding capabilities, will soon be able trade the popular cryptocurrency against the U.S. dollar, British pound and the euro.
BCH/Fiat Trading Pairs Are Coming to GBX-DAX
The Gibraltar Blockchain Exchange (GBX) has announced that starting from March 13, fiat trading pairs with bitcoin cash (BCH) will be available to users of its insured and regulated Digital Asset Exchange (DAX). The new bitcoin cash fiat trading pairs will include BCH/USD, BCH/GBP and BCH/EUR, as well as trading pairs with BTC and ETH.
Full Article: https://news.bitcoin.com/gibraltar-exchange-to-list-bitcoin-cash-fiat-trading-pairs/
Bitcoin Whales Have Accumulated Thousands of Coins in the Last 2 Months
Cryptocurrency markets experienced a long bearish cycle last year which has continued into 2019. With some of the top cryptocurrencies like bitcoin cash (BCH) and bitcoin core (BTC) losing significant fiat value, large holders, otherwise known as 'whales,' have been able to accumulate massive amounts of digital assets. According to the top 100 rich list addresses for both coins, the world's richest bitcoin holders have taken full advantage of 'weak hands' and discounted prices.
Full Article: https://news.bitcoin.com/bitcoin-whales-have-accumulated-thousands-of-coins-in-the-last-2-months/
Davos 2019: Leaders Share Mixed Cryptocurrency Predictions
The annual meeting in the Swiss mountain resort of Davos from Jan. 22 to 25, attended by business leaders, politicians, and economists is in progress. Cryptocurrency is once again on the agenda, but so far the discussions emerging from the conference have been mixed, giving attendees plenty of FUD for thought.
Cryptocurrencies on the Agenda at Davos
This year many high profile government representatives dropped out from attending the Davos conference aimed at the global elite. President Donald Trump canceled his trip due to the ongoing government shutdown, French president Emmanuel Macron said he would not attend after weeks of protests in France, and U.K. prime minister Theresa May pulled out due to the complications caused by Brexit.
Despite the high profile dropouts the show, must go on. Delegates at the Swiss resort have been busy discussing major issues around crypto. Bloomberg TV reports that Huw van Steenis, senior advisor to Bank of England Governor Mark Carney, said: "Cryptocurrencies fail fundamental tests of financial services."
During a CNBC hosted panel, Jeff Schumacher, founder of BCG Digital Ventures, said: "I do believe it [bitcoin] will go to zero. I think it's a great technology but I don't believe it's a currency. It's not based on anything."
Cryptocurrency Representatives Keep a Low Profile
From the conference, Angel Versetti, CEO of decentralized internet of things networkAmbrosus, told news.Bitcoin.com there is a general sentiment of uncertainty and worry in the air, with broader menacing macro-trends indicating a potential looming global crisis not only economically, but also politically across different zones.
Compared to Davos 2018, many crypto delegates are keeping a low profile this year. Versetti said: "Already, almost every one of the great powers has canceled their attendance; heads of state from Russia, China, America, France, the UK, and India all opted not to attend. In general everything is toned down compared to last year."
In 2018 we witnessed economic growth and the World Economic Forum (WEF) took place when cryptocurrencies were close to their peak value. Versetti said:
While last year, people were talking about crypto and blockchain anywhere and everywhere, this year there is comparatively little discussion around it.
Another observation made at Davos on Jan. 23 is that the flagship flashy crypto pavilions of last year, such as Consensys and Global Blockchain Council, have become much more modest and low profile.
"One can feel the crypto crisis there, because the pavilions are never full and most guests are from the crypto space itself, rather than from other industries. As the 1 percent continue to go back and forth on their position on crypto, big bankers' skepticism on the role of cryptocurrencies in finance is unwavering. Some crypto events even shut down their pavilions and canceled their participation altogether," said Versetti.
Some attendees are remaining positive despite all the doom and gloom talk at Davos. Michael Sung, a technology investor and co-director of the fintech research center, told news.Bitcoin.com: "This year crypto will finally get grow up and get real, where the technology, business models, traction across industries, and regulation are all simultaneously maturing to enable practical enterprise applications. We are waking up from a crypto hangover where undisciplined unenthusiasm of last year will lead to better behavior which will drive the industry into professionalism such that institutional participation will be possible."
More Balanced Panels and Views Shared
One key panel at Davos, called Building a Sustainable Crypto-Architecture, was more interesting as it featured a range of balanced views. The panel pitted well-known Bitcoin skeptics Gillian Tett from the FT and Ken Rogoff from Harvard against the founders of Circle, which is backed by Goldman Sachs and Bitpesa.
As the Building a Sustainable Crypto-Architecture panelists noted, it's likely that regulation of the cryptocurrency space will increase. Regardless of the stance that lawmakers take, this much is for certain: business leaders will continue to flock to Davos every year and the vast majority will continue to be badly wrong about Bitcoin.
Russian Institutions Back Proposal to Let Companies Use Cryptocurrency
Source: Bitcoin.com
An idea to allow companies from certain sectors and in some regions to use cryptocurrencies is gaining traction in Russia. The proposal has been included in a draft law prepared by the Economy Ministry, a high-ranking parliamentarian has voiced his support, and big business is discussing its implementation.
Draft Law Offers to Create Regulatory Sandboxes in Russian Regions
Select entities from the IT sector and the blockchain industry may be permitted to utilize digital assets in their financial transactions, Russian media reported. The experimental regulatory regime is to be implemented in some regions of the vast country, according to a draft law put forward by the Ministry of Economic Development.
For the Full Article: https://news.bitcoin.com/russian-institutions-back-proposal-to-let-companies-use-cryptocurrency/
Using Technical Indicators to Trade Crypto in 2019
Technical analysis (TA) has been used to trade crypto since its inception. Traders claim that through careful analysis of historical data and focus on price, volume, and related indicators it is possible to identify patterns and predict outcomes. Here are a number of key indicators and mechanics commonly used for trading crypto.
https://news.bitcoin.com/analysis-using-technical-indicators-to-trade-crypto-in-2019/
SEC Chair Explains Key Upgrades Needed for Bitcoin ETF Approval
Source: Bitcoin.com
At the Consensus Invest conference on Tuesday, SEC Chairman Jay Clayton explained what he needs to see before the SEC can consider approving its first bitcoin exchange-traded fund (ETF).
According to Cnbc, Clayton said he "needs to see key upgrades in cryptocurrency markets before approving a bitcoin ETF." Specifically, the SEC chair "wants to see better market surveillance and custody for cryptocurrencies before being 'comfortable' with a bitcoin ETF," the news outlet added.
Better Market Surveillance
The first issue Clayton noted was the lack of market surveillance at crypto exchanges. Market surveillance involves the use of systems that "monitor, prevent and investigate abusive and manipulative activity on the exchanges," the publication described.
The chairman explained that stock exchanges such as the New York Stock Exchange and the Nasdaq already have these monitoring tools in place. However, "Those kinds of safeguards do not exist currently in all of the exchange venues where digital currencies trade," he affirmed, asserting:
What investors expect is that trading in the commodity that underlies that ETF makes sense and is free from the risk of manipulation … It's an issue that needs to be addressed before I would be comfortable.
Not all crypto exchanges lack market surveillance, however. In April, Nasdaq announced that crypto exchange Gemini "will be leveraging Nasdaq's Smarts Market Surveillance technology to monitor its marketplace." Nasdaq claims that its technology "is considered the most widely deployed surveillance system in the world."
This agreement followed the SEC's rejection of the rule change proposed by Bats BZX to list and trade Coin ETF. The commission cited Bats BZX's lack of "surveillance-sharing agreements with significant markets for trading" bitcoin or its derivatives as one of the reasons.
On Tuesday, Europe's largest crypto exchange by trading volume, Bitstamp, announced that it is implementing a monitoring platform provided by market surveillance provider Irisium.
Inadequate Custody
Clayton is also concerned with how safely crypto assets are stored, emphasizing that investors could be exposed to a risk of theft in ETFs' underlying assets. A number of custody solutions have been explored by companies such as Fidelity Investments, Coinbase, Gemini, Bitgo, Itbit, Japanese bank Nomura, Goldman Sachs, Northern Trust and South Korea's Shinhan bank.
Bitcoin Markets Comprise Imminent Alternative to Foreign Exchange
Source: Bitcoin.com 16/10/2018
A report authored by researchers from the Henryk Niewodniczanski Institute of Nuclear Physics has found that Bitcoin is maturing. The report, courtesy of the Polish Academy of Sciences in Krakow, concludes that Bitcoin carries "concrete potential of imminently becoming a regular market" and "an alternative to the foreign exchange."
Polish Researchers Seek to Assess Maturity of Bitcoin Markets
The study, which is "Based on 1-min price changes recorded since year 2012," assesses "the fluctuation properties of the rapidly emerging Bitcoin market … over chosen sub-periods, in terms of return distributions, volatility autocorrelation, Hurst exponents, and multiscaling effects."
"Since high-frequency price data are available since the beginning of trading," the researchers argue that "Bitcoin offers a unique window into the statistical characteristics of a market maturation trajectory."
"Statistical Irregularities" Only Identified During Bitcoin Markets' Infancy
Published in the scientific journal, Chaos: An Interdisciplinary Journal of Nonlinear Science, the report states that "While early trading was affected by system-specific irregularities, it is found that over the months preceding April 2018 all these statistical indicators approach the features hallmarking maturity. This can be taken as an indication that the Bitcoin market, and possibly other cryptocurrencies, carry concrete potential of imminently becoming a regular market alternative to the foreign exchange."
Professor Stanisław Drożdż, one of the researchers who worked on the study, stated: "Initially, the graphs we got were a bit crooked, which did not augur anything promising. But when we took a closer look at the data, suddenly it turned out that this crookedness originated from the first two years of the analyzed period, that is, from the time when the market was just starting to shape itself. Later on, the rates of return fluctuated according to the inverse cubic law."
Cryptocurrency Markets Will Pose "Very Real Competition" to Forex Markets
Professor Drożdż asserts that "One of the more sophisticated features signaling the maturity of a market is the multifractal nature of its characteristics. Multifractals are fractals of fractals, i.e. structures in which, in order to see self-similarity, various fractal fragments have to be magnified at different speeds. Multifractal analyses reveal dependencies existing in many scales. In the case of Bitcoin, we detected multifractality in the functions of fluctuations in rates of return, particularly evident in the last six months of the examined period. This was of the same type as for regular, mature markets, such as the stock, dollar, oil or bond markets."
"The most important statistical parameters of the Bitcoin market indicate very clearly that for many months now it has met all the important criteria of financial maturity. It seems that in the case of other cryptocurrencies it will be possible to expect a similar transformation. If this happens, the world's largest market, the Forex market, can look forward to very real competition," professor Drożdż concluded.
Singapore Hosts New Fiat-Crypto Exchange, Welcomes Crypto Bank Accounts


Source: Bitcoin.com



Strong Response to Eurekapro's Beta Launch
More than 8,000 people signed up for the open public beta launch of Eurekapro'snew fiat-crypto exchange, Finews.asia has reported. "A Singapore-based exchange will allow for easy fiat-to-crypto trading and aims to make digital currency more easily accessible to businesses and consumers," the news site said.
Eurekapro offers its own native token, EKT, and claims it provides the most extensive fiat-to-crypto support in Asia. With its new Singapore exchange, the company — which was previously known as Overswitch and based out of Sweden — will allow users to conduct transactions with a number of regional fiat currencies, including the Singapore dollar, Malaysian ringgit and Indonesian rupiah.
MAS Cautiously Embraces Crypto
The Monetary Authority of Singapore (MAS) will start helping crypto firms to set up local bank accounts, Bloomberg has reported, citing MAS Managing Director Ravi Menon. Although Asia is home to a growing middle class that is keen to experiment with cryptocurrencies, Singapore is looking to contrast its embrace of crypto against that of other countries across the continent. For example, MAS does not plan to require licenses for crypto exchanges, as the Japanese authorities do.
Japan has emerged as the gold standard for crypto in Asia, and really around the world, as it has largely taken a live-and-let-live approach. But in Singapore, MAS plans to place different crypto businesses into categories. "Utility tokens," the first of these categories, refers to the use of blockchain technology to facilitate payments for things such as computing services. Menon said that barely any regulation will be required for such activities.
The second distinction that MAS will draw for the crypto industry relates to digital tokens that resemble securities. Such cryptocurrencies will fall under the oversight of Singapore's Securities and Futures Act. In reality, Menon acknowledged that there have not been many local initial coin offerings that could be classified under this category thus far. But those that do will be subject to the relevant legislation. MAS has even said that it will not consider many such examples to be viable business models. "Most of them are careful to steer clear of that line," Menon said.
Lack of Regulatory Clarity
While the Singapore authorities have overtly tried to encourage the growth of financial technology businesses, crypto companies have found that a lack of regulatory clarity has thus far held back their expansion. Part of the problem is that crypto firms have struggled to get local bank accounts; in some cases, the banks have ended up closing accounts that such companies have managed to open.
Yet Menon acknowledged that the crypto business is different from the fintech space in many ways, noting that the reluctance of local banks to get involved is understandable, due to the arguably "opaque" practices of some crypto companies. He said that the regulator's primary concern involves discouraging money laundering and protecting the interests of consumers. But he also noted that there are ultimately limits to the regulatory reach of the MAS.
FSB: Crypto-Assets Not a Threat to Global Financial Order
In a document titled "Crypto-asset markets: Potential channels for future financial stability implications," the FSB argues against an alarmist view of the perceived threat that cryptocurrencies may pose to financial markets throughout the world. It finds that "based on the available information, crypto-assets do not pose a material risk to global financial stability at this time."
However, the Switzerland-based international body, which offers recommendations on the global financial system under the leadership of Bank of England Governor Mark Carney, nonetheless advises a cautious approach to the industry. "Vigilant monitoring is needed in light of the speed of market developments," it says. "Should the use of crypto-assets continue to evolve, it could have implications for financial stability in the future."
The FSB predicts that said risks may include "confidence effects and reputational risks to financial institutions and their regulators." It also points to "risks arising from direct or indirect exposures of financial institutions," as well as "risks arising if crypto-assets became widely used in payments and settlement." In addition, the organization points to concerns about "market capitalization and wealth effects."
Broader Crypto Policy Challenges
The report is a follow-up to the FSB's "March 2018 letter to G20 Finance Ministers and Central Bank Governors" and its July 2018 "summary of the work of the FSB and standard-setting bodies on crypto-assets." It highlights a number of broader policy issues pertinent to crypto-assets, such as "the need for consumer and investor protection; strong market integrity protocols; anti-money laundering and combating the financing of terrorism (AML/CFT) regulation and supervision, including implementation of international sanctions; regulatory measures to prevent tax evasion; the need to avoid circumvention of capital controls; and concerns relating to the facilitation of illegal securities offerings."
While noting that the board has pursued a number of "domestic supervisory, regulatory, and enforcement actions related to crypto-assets," the report reiterates the FSB's ongoing efforts to facilitate the development of an international regulatory framework pertaining to cryptocurrencies. However, it describes the current diversity of national crypto regulations as a potential barrier to the establishment of an international juridical apparatus for virtual currencies.
The report also states that "illiquidity, concentrated ownership, fragmented market structure, and other issues also make crypto-assets potentially susceptible to price manipulation."
Crypto Markets See Solid

Upswing as SEC Promises to Review Recently Rejected Bitcoin ETFs
Source: Cointelegraph.com
Friday, August 24: crypto markets have seen notable growth today, with all but one of the top 40 cryptocurrencies by market cap solidly in the green, according to data from Coin360.
Bitcoin (BTC) has seen solid growth, having surpassed the $6,600 price point, starting the day just over $6,400. The leading cryptocurrency is up around 3 percent over the past 24 hours, trading at $6,624 at press time.
August 22 Bitcoin plunged from above $6,700 to under the $6,400 price point, following news of new anti-crypto policies in China, as well as another series of application denials for several Bitcoin exchange-traded funds (ETFs) by the U.S. Securities and Exchange Commission (SEC).
According to CoinMarketCap, Bitcoin and VeChain (VET) are the only two cryptocurrencies among top 20 coins by market cap that have seen some gains over the past 7 days, with Bitcoin up just 1.43 percent.

The top altcoin Ethereum (ETH) is up about 2.7 percent today, trading at $280 at press time. Following a markable downward trend over the week, the second cryptocurrency by market cap has suffered a heavy-hitting 41 percent loss over the past 30 days.
Total market cap is slightly up today, mostly holding above the $210 billion mark over the past 24 hours. After dropping to as low as $203 billion August 22, the capitalization of all cryptocurrencies has grown to $214.7 billion by press time.
Among the top 10 coins, EOS (EOS) and Monero (XMR) have seen the most significant growth over the past 24 hours, up 4.7 and 3.9 percent respectively.
Today's solid upswing in the crypto markets comes following an announcement from the U.S. SEC that the Commission will review its August 22 decision to reject nine applications for listing Bitcoin ETFs.
Earlier today, CNBC's crypto market analyst Brian Kelly predicted that the first Bitcoin ETFs will start operating in February 2019. According to Kelly, the world is getting "incrementally closer" to the first Bitcoin ETF approval, pointing at the bullish "sentiment change," despite the recent application rejections.
Boerse Stuttgart to Host Crypto Trading and Coin Offerings
Source: Bitcoin.com
Boerse Stuttgart is going deeper into crypto. The German stock exchange is planning to set up a new trading venue that would allow the exchange of tokens from the ICOs it wants to host, as well as established cryptocurrencies. Custody services will also be offered to crypto investors.
Trading Venue, ICO Platform and Crypto Custody
Germany's second largest stock exchange, Boerse Stuttgart, is expanding its crypto-related investments. It has announced intentions to create a "multilateral regulated trading venue" for cryptocurrencies with safe storage services for digital assets. The Boerse also intends to develop a new platform for conducting Initial Coin Offerings (ICOs).
The news about these plans comes after earlier this year the exchange said it was developing a new cryptocurrency trading app called Bison which is expected to offer fee-free access to crypto investment. According to previous reports, the German version of the software is scheduled to be released this fall and will be followed by an English version shortly after. The app will initially support pairs with BTC, ETH, LTC, and XRP.
Boerse Stuttgart now wants to extend its crypto-related activities to the primary and secondary markets, Finextra reported. That involves the creation of the ICO platform which will allow the issuance of digital tokens used for either corporate financing or to represent rights and assets.
All Under One Roof
The exchange is also preparing to establish the regulated trading venue where the coins of the hosted ICOs will be traded in parallel with leading decentralized cryptos such as bitcoin core (BTC) and ethereum (ETH). Custody services will be provided to participating traders and investors. Speaking about these important developments, the Chief Executive Officer of Boerse Stuttgart, Alexander Höptner, said:
At the trading venue tokens issued via our ICO platform can be traded on the secondary market. This is an important success factor for ICOs. At the same time, we are responding to demand from both retail and institutional investors for a regulated and reliable environment for trading cryptocurrencies.
According to further comments by Mr. Höptner, all this will allow the exchange to offer "central services along the value chain for digital assets, all under one roof." The announcement of the new projects follows last year's establishment of a "Digital Ventures" unit and the subsequent acquisition of local data analytics startup Sowa Labs. The subsidiary is currently developing the Bison crypto trading app claimed to be the first that has the support of a major traditional stock exchange.
Boerse Stuttgart is the second largest stock exchange in Germany, after Frankfurter Wertpapierbörse, and the ninth largest in Europe. So far, Germany has treated carefully cryptocurrencies and the related industry. In the Bundesrepublik, cryptos are not subject to VAT when exchanged with fiat, and profits from long-term crypto investments are exempt from capital gains tax.
Crypto Markets Update: Monster Liquidations and Flash Crash Fear
Source: Bitcoin.com
Cryptocurrency bears, love them or hate them, exist in great magnitude this year, for as everyone knows, digital assets have been in a slump. Many cryptocurrencies seemingly have hit the 'bottom' at least three times so far, but that may not hold true for very long. A market bottom is what's considered the lowest the price a cryptocurrency will go for a period of time until markets rise in value again. For instance, BTC/USD prices touched a high of $19,600 per coin last December and since then BTC values have dipped to roughly $5,700 per BTC a few times. This has led some people to believe that the $5,700 region is the bottom, at least for now, unless things go southbound during a flash crash. Many respected cryptocurrency traders have different types of views when it comes to what will happen next in the land of digital currency markets.
One respected digital asset trader called Mr. Jozza details that right now bitcoin markets are not looking very nice. "The bitcoin market is ugly," Mr. Jozza emphasizes. "It completely invalidated my previous bullish interpretation. No follow through on break up of a bearish trend."
While Okcoin 415 mm contract liquidation sits on the books, expecting $7200 test for support.
Chart by Mr. Jozza on August 2, 2018.
Are High-Frequency Trading Firms Joining the Party?
Another respected trader and administrator of the large Telegram trading chat room Whale Club, BTCVIX, says High-Frequency Trading (HFT) firms are trading bitcoin.
The Greatest Danger in Crypto: Flash Crashes
Because of the volatile movements over the last few days, digital asset margin traderson exchanges like Okex and Bitmex have literally been getting 'rekt.' Three days ago on July 31, the exchange Okex liquidated more than $400 million USD worth of Bitcoin futures contracts from just one customer. Two days later the well-known cryptocurrency trader Philakone explained to his 100,000 Twitter followers that people should be careful of 'flash crashes' in crypto markets, especially when trading with leverage.
"Here are my positions — I've set aside another $200K now in my margin that I can play just in case something violent like a flash crash happens — Always be mindful of that," Philakone emphasizes.
Always remember the greatest danger in crypto: Flash crashes. If you forget about this, it's not good. It could happen only ONE time for you to destroy your crypto career. I've been there. Be careful baby whales.
On August 1 the respected cryptocurrency analyst Willy Woo explained to his Twitter followers that he thinks BTC will "flash dump, then moon" during a global banking crisis. People believe the analyst because Woo has predicted cryptocurrency variances correctly a few times in the past.
"Interesting to see most think BTC will moon," Woo details. "I think BTC will flash dump, then moon afterward, just like with Gold in WFC 2008."
Flight to safety: everything else sells off to USD, then used to unwind leveraged positions, then afterward havens like Gold and BTC have a bull run.
"Probably also contingent on how many institutional players are in the BTC market over that period. Normal retail HODLers won't tend to have large leveraged positions to unwind from, apart from maybe mortgages," Woo notes.
The Last Dead Cat Bounce? Short Positions Begin to Pile Up Before the Weekend Trading Sessions
Currently, most cryptocurrency markets are still in the red seeing losses over the last 24 hours. Bitcoin core (BTC) has been trading between $7,250-7,520 over the last day, while bitcoin cash (BCH) is swapping for $660-740 per coin. Both markets have seen consistent drops in trade volume (BCH $375M, BTC $4.4B), and billions shaved off their market capitalizations. Many leverage traders lost their shirts over the last three days due to margin liquidations, as there were some very quick drops in value this week. As we approach the weekend short contracts are already starting to pile up on Bitfinex, Kraken, and Bitmex once again.
The last few weeks of gains gave traders a breath of fresh air, but the bullish sentiment didn't last long. Unlike the slew of Wall Street bigwigs that believe bitcoin will touch $50K or zero by the year's end, there are many traders out there who are more in touch with reality and telling people they should trade carefully.
Where do you see the price of BTC, BCH and other cryptocurrencies headed from here? Let us know in the comment section below.
Disclaimer: Price articles and markets updates are intended for informational purposes only and should not to be considered as trading advice. Neither Bitcoin.com nor the author is responsible for any losses or gains, as the ultimate decision to conduct a trade is made by the reader. Always remember that only those in possession of the private keys are in control of the "money."
Crypto News: Ripple Price Analysis: XRP/USDould Explode Soon?
Source: NEWBTC
Key Highlights
Ripple price is trading in a range above the $0.4300 support area against the US dollar.

There is a short-term contracting triangle formed with resistance near $0.4560 on the hourly chart of the XRP/USD pair (data source from Kraken).

The pair could accelerate gains once it breaks the $0.4600 and $0.4700 resistance levels in the near term.
Ripple price is briefly consolidating in a range against the US Dollar and Bitcoin. XRP/USD could explode once the current consolidation phase is over.
Ripple Price Resistances
During the past few days, Ripple price mostly traded in a range above the $0.4300 level against the US Dollar. The XRP/USD pair made a few attempts to break the $0.4600 and $0.4700 resistance levels, but it failed. At the moment, it is consolidating above the $0.4400 level and is likely preparing for the next move. A successful close above the $0.4700 hurdle is must for ripple buyers to take control.
An initial resistance is near the 50% Fib retracement level of the last decline from the $0.4690 high to $0.4437 low. There is also a short-term contracting triangle formed with resistance near $0.4560 on the hourly chart of the XRP/USD pair. The triangle resistance at $0.4560 is positioned near the 100 hourly simple moving average. A break above this could push the price towards the $0.4700 resistance. An intermediate resistance is the 76.4% Fib retracement level of the last decline from the $0.4690 high to $0.4437 low.
Looking at the chart, the price may continue to trade in a range below $0.4700 for the next few sessions. Above $0.4700, the price may well accelerate above $0.5000 towards $0.5500. On the downside, the price must stay above the $0.4400 and $0.4300 support levels to avoid more declines.

Looking at the technical indicators:
Hourly MACD – The MACD for XRP/USD is not moving much in the bearish zone.
Hourly RSI (Relative Strength Index) – The RSI for XRP/USD is not signaling any major move.
Major Support Level – $0.4500
Major Resistance Level – $0.4700